Last modified: December 11, 2015
Plan for College and Career Readiness Pccr Online Scheduler
Dear Parents/Guardian,
We will be holding individual 8th Grade PCCR (Plan for College and Career Readiness) appointments starting on Wednesday January 6th, 2016. PCCR's will continue through Tuesday, February 23rd 2016.  (Timpview High School Counselors will be here at CMS, on February 24th and 25th to register your 8th grade students for 9th grade classes).
During your 30 minute PCCR appointment. your student's counselor will review grades. ACT Explorer test results, and Provo School District graduation requirements, Post High School goals will also be discussed with you and your student.
For your convenience. parents have the opportunity to schedule their own appointments using an online scheduler with the instructions.  You need to click on both the online scheduler and the instructions either in English or Spanish.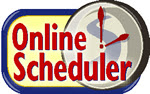 English Instuctions for the Online Scheduler
Spanish Instructions for the Online Scheduler
Sincerely,
CMS Counseling Center
David Merrill: students A-J
Maritza Larson: students K-L and ESOL students
Arica Summer: students M-Z